Connect with your social network account
I have a rather large colony of softy for sale. It could be a showcase piece in an aquarium. The colony attached to a powerhead grill which work great as propagating tools.
Beautiful feathery, flowing features and green hues.
See pic in Instant Ocean bucket. $40 for the whole huge colony!
Also have several loose pieces (seen in lower left of pic). $5 - $10 each.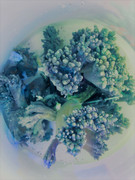 Open to trades for shrimp, snails, coral, etc.
---
---
---